| | |
| --- | --- |
| FIRM NEWS | Winter 2017 E-Newsletter |
Montfort, Healy, McGuire & Salley LLP Wins Motion for Summary Judgment on Appeal

Donald S. Neumann, Jr. of Montfort, Healy, McGuire & Salley LLP was successful in representing a housing development corporation in a trip and fall case in New York's Appellate Division, First Department.

The action arose out of a trip and fall accident in 2012, when an imperfection in the sidewalk allegedly caused the plaintiff to trip and sustain injuries. Montfort, Healy, McGuire & Salley LLP appeared in the action representing a housing development corporation that owned property in the neighborhood where the plaintiff tripped. Within four months after appearing in the action, the firm filed a motion for summary judgment, arguing that the housing development had no relationship to the sidewalk at issue, and furthermore, it did not engage in any act that might have caused the alleged imperfection.

The trial court denied the firm's motion as untimely, even though the housing development was not impleaded into the action until four months after the note of issue was filed. A motion filed by a co-defendant to strike the note of issue and allow additional discovery was also denied.

The First Department held that the trial court should have considered the motion for summary judgment on the merits. The motion court erred when it failed to extend the time within which to file the motion because "good cause" existed to excuse any delay in filing the motion. The First Department concluded by issuing an order that granted the motion and dismissed the action as against the housing development corporation.

The text of the decision can be read here.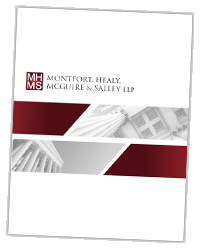 New York Attorney Advertising: This e-newsletter is designed for general information only. The information presented in this e-newsletter should not be construed to be formal legal advice nor the formation of a lawyer/client relationship. Prior results do not guarantee a similar outcome. Downstate New York Defense Attorney Garden City, Long Island.
© 2017 by Montfort, Healy, McGuire & Salley LLP. All rights reserved. Disclaimer
This email is designed and developed by The Public Relations and Marketing Group.