| | |
| --- | --- |
| FIRM NEWS | Summer 2017 E-Newsletter |
Montfort, Healy Successful in Arguing Motor Vehicle Accident

Montfort, Healy was successful in arguing that a jury's verdict rendered in a motor vehicle accident case should stand. The plaintiff alleged that she sustained serious injuries as a result of a motor vehicle accident. The jury returned a unanimous verdict finding that the motor vehicle accident was not a substantial factor in causing her alleged injuries.

The plaintiff moved pursuant to CPLR § 4404(a) to set aside the verdict and for a judgment as a matter of law. After the initial request was denied, the plaintiff moved for leave to reargue. Upon reargument, the Suffolk County trial court granted her motion. The defendants appealed. On appeal, the Second Department recognized that a motion pursuant to CPLR § 4404(a) may only be granted "where there is no valid line of reasoning and permissible inferences which could possibly lead rational persons to conclusions reached by the jury on the basis of the evidence presented at trial." The Court cited Cohen v Hallmark Cards, 45 NY2d 493, 499; Vittiglio v Gaurino, 100 AD3d 987, 987-988. Vittiglio v Gaurino, decided by the Second Department in 2012, was also argued by Montfort, Healy.

Montfort, Healy contended that the expert testimony of the physicians who examined the plaintiff on behalf of the defendants could lead the jury to believe the claimed injuries were solely the result of degenerative processes, and therefore were not the result of trauma. Upon review, the Second Department agreed with Montfort, Healy and held that the Supreme Court's grant of plaintiff's motion under CPLR § 4404(a) was improper. Accordingly, the Second Department reversed the trial court order and reinstated the jury's verdict.

To read the full text of the decision, click here.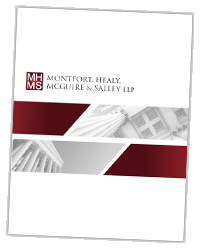 New York Attorney Advertising: This e-newsletter is designed for general information only. The information presented in this e-newsletter should not be construed to be formal legal advice nor the formation of a lawyer/client relationship. Prior results do not guarantee a similar outcome. Downstate New York Defense Attorney Garden City, Long Island.
© 2017 by Montfort, Healy, McGuire & Salley LLP. All rights reserved. Disclaimer
This e-newsletter is designed and developed by PR4Lawyers.