Montfort Healy's Susan H. Dempsey Successful in a Threshold Motion for Summary Judgment
On April 10, 2017 the Honorable Paul A. Goetz of the New York County Supreme Court signed an order granting a motion for summary judgment in favor of the defendants who were represented by Montfort, Healy, McGuire & Salley LLP. The decision was made pursuant to Insurance Law § 5102(d) which requires the plaintiff to claim serious injuries resulting from the defendant's negligent ownership and/or operation of a motor vehicle.
READ MORE »
LEGAL NEWS
Fraudulent Insurance Claims Revealed by Social Media
When defending against insurance claims in 2017, there are various forms of technology available to discover fraudulent claims. Through data analytics, internet-enabled automobiles, wearables and other forms of technology, insurance providers are able to discover when a claim is fraudulent. But what investigators are now starting to discover is that a claimant's social media account could be the first place to start. Through a thorough investigation, a defendant can find valuable information to the defense of a claim. Recently, several claims have highlighted this fact.
READ MORE »
New York Medical Malpractice Lawsuit Against Hospital and Pediatricians Is Tossed out by Appellate Court
On February 23, 2017, a New York court of appeals cleared several pediatricians and a major New York hospital, of a medical malpractice lawsuit that accused them of failing to diagnose an infant's tumor. The lawsuit was brought by the infant plaintiff's parents. The lawsuit alleged that the doctors breached the expected standard of medical care by not discovering and treating the infant's Medulloblastoma, a type of brain tumor, earlier.
READ MORE »
"Drastic" Sanctions Against Defendant in Medical Malpractice Case Issued by Second Department
In a 3-1 decision, the Appellate Division Second Department decided that a defendant's "contumacious" conduct can lead to not only monetary sanctions, but also the striking of their answer. While the lone dissenting judge argued that the sanctions were "drastic," the majority held that the nature and degree of penalty lies within the sound discretion of the Court.
READ MORE »
Nassau Supreme Court Hears Case Regarding "Necessary Emergency Health Services"
When an insured person gets injured as a result of operating a motor vehicle in an intoxicated condition, the insurer may question whether they can deny personal injury protection to the negligent driver. Prior to 2011, New York no-fault insurers had the ability to deny paying out the coverage benefits. However, in January 2011, New York State amended Insurance Law § 5103(b)(2) which required the insurers to cover payments for "necessary emergency health services rendered in a general hospital." While the amendment has been the topic of several arbitration settlements, the case of St. Barnabas Hospital v. Government Employees Insurance Company was the first that has made its way to a New York court.
READ MORE »
For more information about these cases or the firm's insurance defense representation, contact Donald Neumann, Managing Partner, at donald_neumann@mhms-law.com or at (516) 747-4082.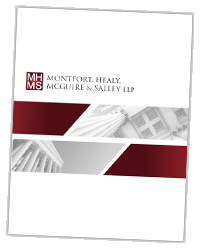 840 Franklin Avenue | P.O. Box 7677 | Garden City, NY 11530-7677
New York Attorney Advertising: This website is designed for general information only. The information presented in this site should not be construed to be formal legal advice nor the formation of a lawyer/client relationship. Prior results do not guarantee a similar outcome. Downstate New York Defense Attorney Garden City, Long Island.
© 2017 by Montfort, Healy, McGuire & Salley LLP. All rights reserved. Disclaimer
This email is designed and developed by The Public Relations and Marketing Group.