| | |
| --- | --- |
| LEGAL NEWS | September 2015 E-Newsletter |
Doctrine of "Danger Invites Rescue" Applied to Permit Recovery by Firefighter of Underinsured Benefits

Matter of Encompass Indem. Co. v. Rich

2015 NY Slip Op 06432

In a recent ruling, the Appellate Division, Second Department applied the "danger invites rescue" doctrine in an unusual manner. The suit arose from injuries sustained by a firefighter who came to the aid of a car accident victim, who was trapped in his wrecked vehicle. The firefighter was injured while attempting to extract the motorist using the "jaws of life." The injury occurred to the firefighter's right shoulder when he and three other firefighters tried to lift the roof from the mangled vehicle in order to save the motorist inside.

Relying on the "danger invites rescue" doctrine, the firefighter later commenced a lawsuit against the motorist to recover for personal injuries he allegedly sustained.

The firefighter's action was settled after the motorist's carrier tendered its policy limit of $25,000.

The firefighter then demanded underinsured arbitration under the supplementary uninsured/underinsured motorists (SUM) endorsement of his own policy.

In response to the demand for arbitration, Encompass (the firefighter's carrier), petitioned for a permanent stay, contending that motorist's use of his vehicle was not the proximate cause of the firefighter's injuries.

The trial court granted the petition and permanently stayed the arbitration, and the Appellate Division, Second Department reversed. The Appellate Court held that Encompass failed to establish that the firefighter was not entitled to underinsured coverage. It found that evidence adduced at the hearing established that the motorist's negligent use of his vehicle directly caused the accident that led to him being trapped and in obvious need of medical attention, which, in turn, led to the firefighter's intervention and resulting injuries (citing Kesick v New York Cent. Mut. Fire Ins. Co., 106 AD3d at 1221-1222). The Court concluded that it "cannot be said, as a matter of law, that [the motorist's] negligent use of his vehicle was not a proximate cause of [the firefighter's] injuries under the doctrine of danger invites rescue."

To read the full opinion, click here.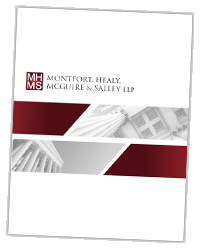 New York Attorney Advertising: This website is designed for general information only. The information presented in this site should not be construed to be formal legal advice nor the formation of a lawyer/client relationship. Prior results do not guarantee a similar outcome. Downstate New York Defense Attorney Garden City, Long Island.
© Copyright 2015 by Montfort, Healy, McGuire & Salley LLP. All rights reserved. Disclaimer
This email is designed and developed by The Public Relations and Marketing Group.